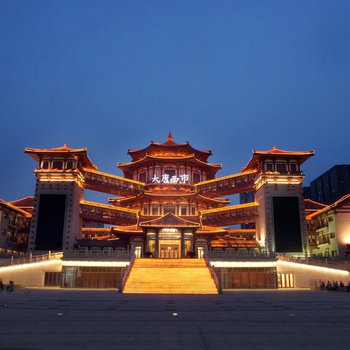 Situated within Datang West Marketbusiness area,the Tang Dynasty West Market Hotel (Datang Xishi Jiudian) is just 12 km (7.5 mi) away from Xi'an Railway Station. This hotel combines modern style with Tang Dynasty elements.
This Xi'an hotel offers a variety of guestrooms and suites equipped with modern amenities including mini-bars, LCD TVs, in-room safes and broadband Internet access.
Dining choice includes a Chinese restaurant offering 16 private dining rooms and specializing in Cantonese and local food. The Western restaurant provides both Western and Southeast Asia food. Guests interested in Japanese food can dine in the hotel's teppanyaki restaurant. The elegant lobby bar offers freshly baked desserts and snacks as well as fresh coffee.
Guests traveling on business will find meeting rooms and a business center at their disposal.
Guests with leisure time on their hand may relax with massage or spa, work out in the gym or play a game of chess or cards in the game room. Guests may also take a dip in the swimming pool or sing in the karaoke rooms. The billiards and ping-pong rooms are also good venues for fun and relaxation.